Прочетете тази страница на български
Margarita Andonova

My name is Margarita Andonova. I graduated two philology degrees in Bulgarian and Spanish. I also use English as a contact language in my work. I have worked for thirty-five years as a teacher of Bulgarian language and culture to foreigners from around the world.  I have thought at many institutions in the country including.
‪The Institute for foreign students
‪The Red Cross and in the High Commissioner for Refugees
‪In the American governmental organization Peace Corps
‪Corporate, group and individual training of foreigners with different social and professional status
During my time working with the American Peace Corps I co-authored their Bulgarian language textbook for the volunteers working in Bulgaria.
In my teaching I primarily utilize a communicative teaching method as the most suitable way to learn how to speak the language. In addition, I immerse my students further into Bulgarian life by teaching them about Bulgarian culture and diversity with a focus on the differences in cultural norms in relation to my student's homeland.
Furthermore, I have taught Spanish at both University and High School levels. In addition to large classroom settings, I have ample experience in individual and group lessons at various Spanish language centers. I was trained in teaching Spanish as a second language in Spain where I gained key skills to enhance my methodologies.
As my contact languages I utilize English and Spanish to enable students to have a base to work from.
Adriana Dimitrova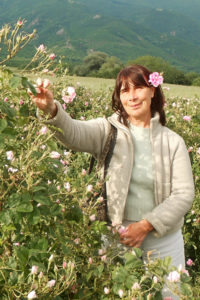 Adriana Dimitrova has extensive experience teaching Bulgarian language to foreigners at the Department of Language Learning of Sofia University / formerly the Institute for Foreign Students /.Highly qualified with impressive methodological skills,she uses the communicative method of teaching foreign language to ensure practical implementation of the ability to speak the language,using English,Italian and Russian as contact languages to facilitate the learning process.Author of several textbooks as well as examination materials and resources.She specializes in conducting examinations for proficiency in Bulgarian language at different levels by utilizing the European standard.
In addition Adriana teaches Italian and Russian. She earned a university degree in language education and conducted language practice in Italy.She is experienced in teaching in schools,offices, homes and language centers.